~
Visuals developed for
Fantastico supermarket
SOCIAL MEDIA
This work was made during my time at NEXT-DC, digital agency ~
These images are property of NEXT-DC. Copyright is reserved by them and they are the result of a multi-disciplinary team's work. No copywriting was developed by me.

Copy on the left: In order not to fall for the shopping saga, today take only the most necessary to watch the premiere. 🌠 🚀 as a helper, for example. On the visual: Don't shop SOLO.
Copy on the right: Everyone prefers baking in the sun than burning calories. But either way, fruit is a mandatory part of summer diet. 🍊🍋 On the visual: Have a nice summer!

Copy on the left: With the bio counter of Fantastico, your favourite sweet products can also be useful. 🍊 On the visual: We combine the useful with the pleasant.
Copy on the right: For the first time in 15 years the red planet is so close to Earth - "only" at 35,8 million miles. We're glad your other favorite Mars is very, much closer to you - in the nearby Fantastico. 🚀

Copy on the left: From beer with 0% alcohol to beer with 100% refreshing fruit taste, fans always have a rich choice. What kind of beer will you score today?
Copy on the right: Marathon to Vitosha or marathon on your favorite series? Whatever you choose this week, choose the most appropriate products for the case.

Copy on the left: The real trophy sometimes is to get the last pack of popcorn at the supermarket 🍿
On the visual: The most important winning cup.
Copy on the right: If you're afraid that your child's favorite dessert might end, you better get it before June 1st. Find the discounts on Children's Day. 🍫

Copy above: Fruit, Czech or 0% alcohol, beer always has 100% refreshing taste. Which one are you going to score on the international beer day? 🍻

Copy above: There are 2 types of people. Those who love pizza and pineapple and those who would never try them together. But when we talk about steak and pineapple, the opinion can only be one. 🥩🍍 see why in our recipe for BBQ in the link in the description. 👆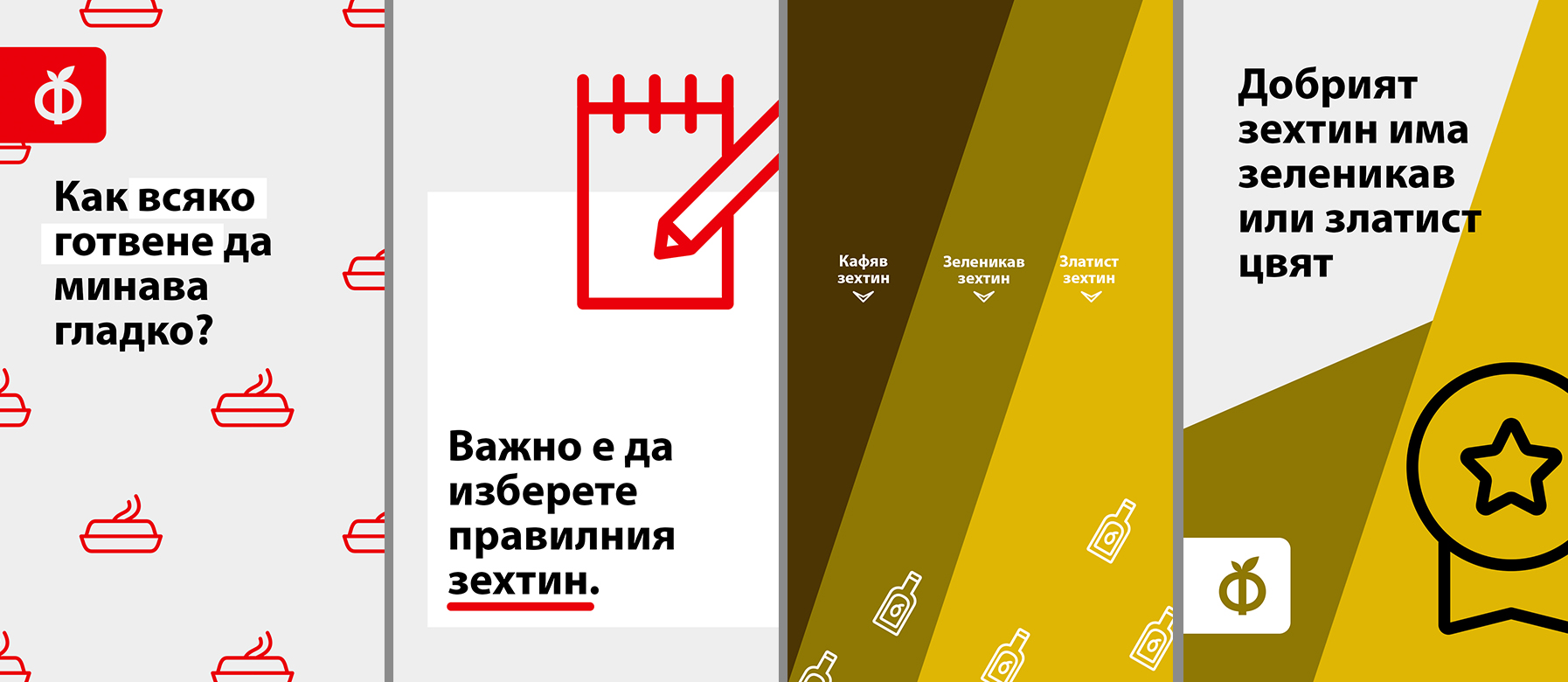 Instastory template above: Choose the right olive oil color.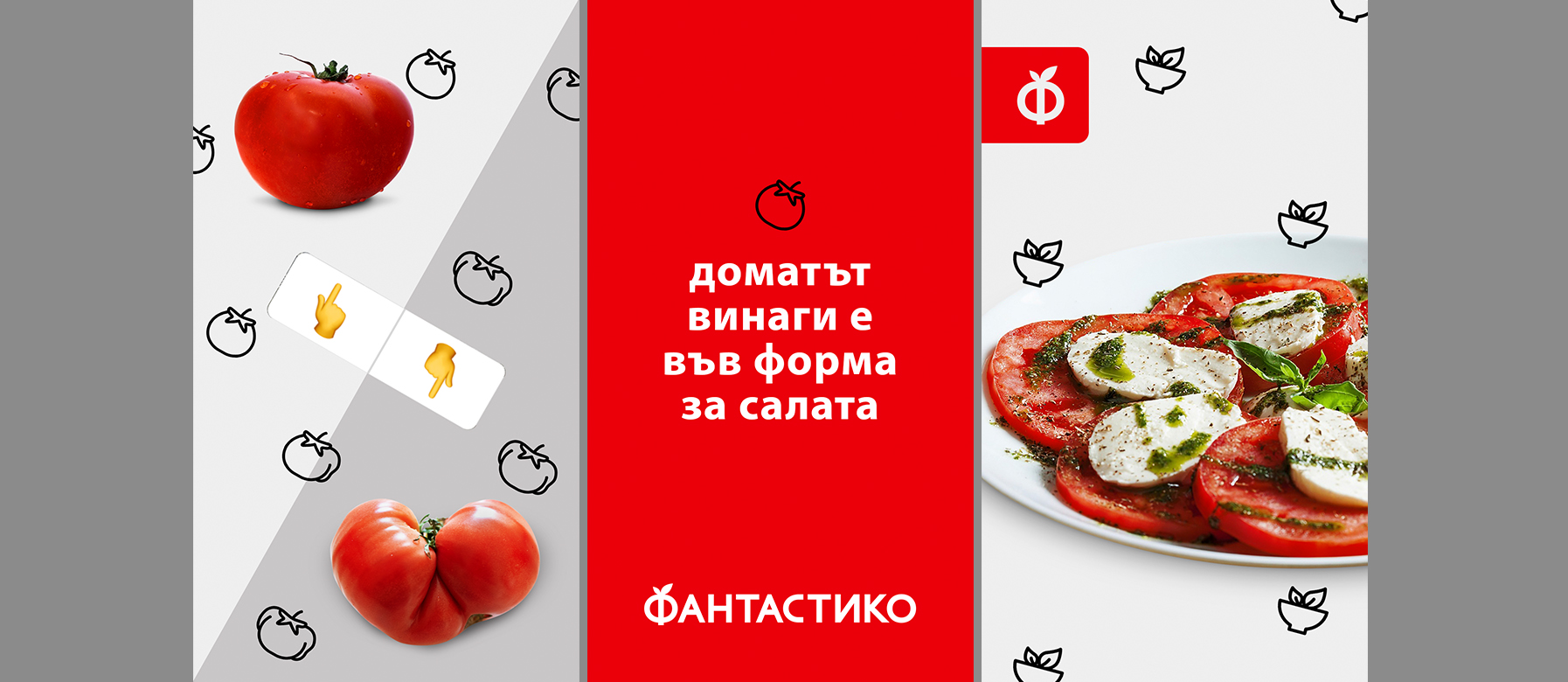 Instastory template above: Tomato is always in shape for salad.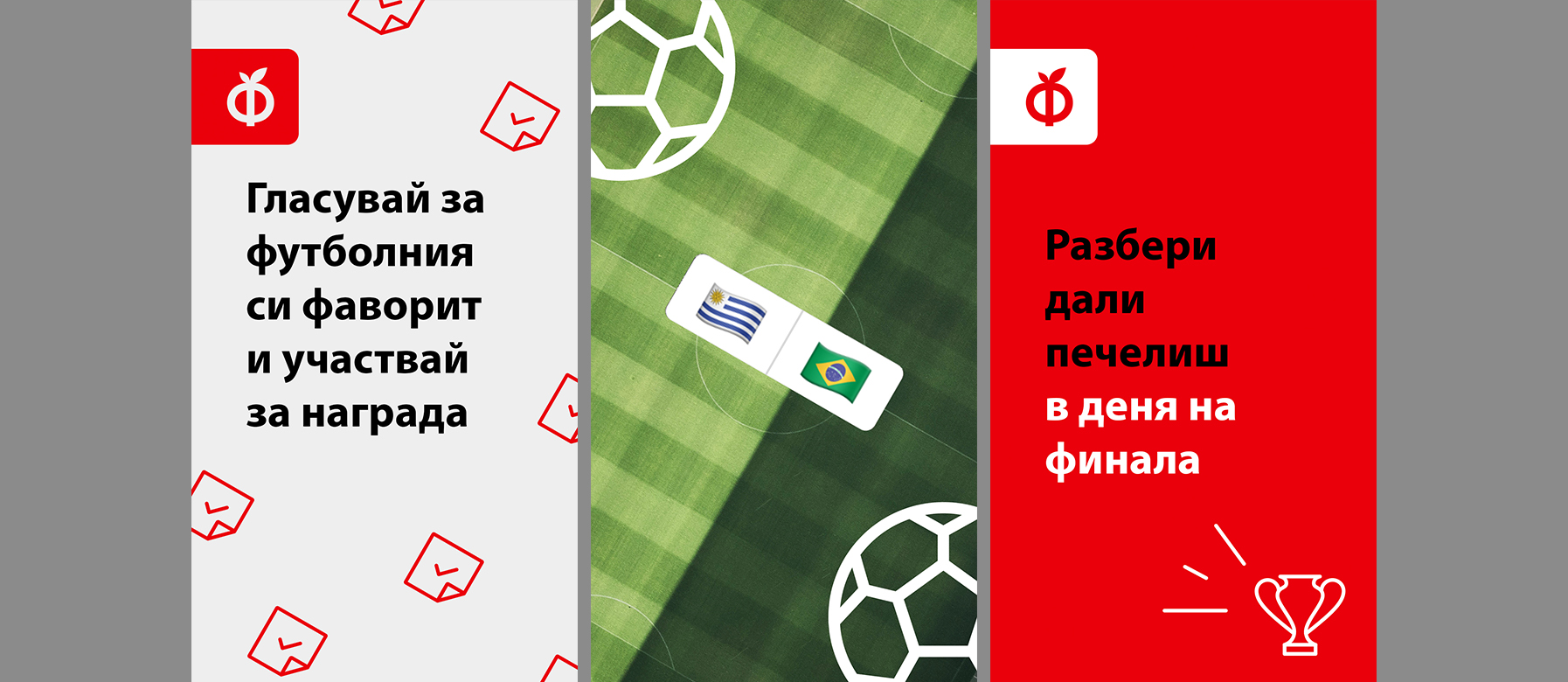 Instastory template above: Vote for your football favorites and take part in a prize.
~
Visuals developed for an hypothetical
RECRUITMENT CAMPAIGN
Considering the role of Fantastico as a chain of stores only in the capital, as a local employer, Fantastico understands the need of people living in Sofia for a sense of closeness and belonging.
For this reason, we proposed a campaign that states that "Fantastico family is interested in my personality and makes me feel important, confident and appreciated": a place where it is important what you are, not what you do.
We thought about the names tags, used in every shop, and how just the name that give you anything personal about the employee in front of you. So Fantastico would make a social experiment in which store employees will have new signs to share something about themselves. The tags would be in the form of stickers that can be changed every day to the mood or personal decision of the employees.
For example: - Yesterday I became a father :) - I have a twin brother - I hate getting up early - I'm collecting brands - It's not my day - I am cheering colleagues - I listen to metal - I'm in love - I have a new friend – …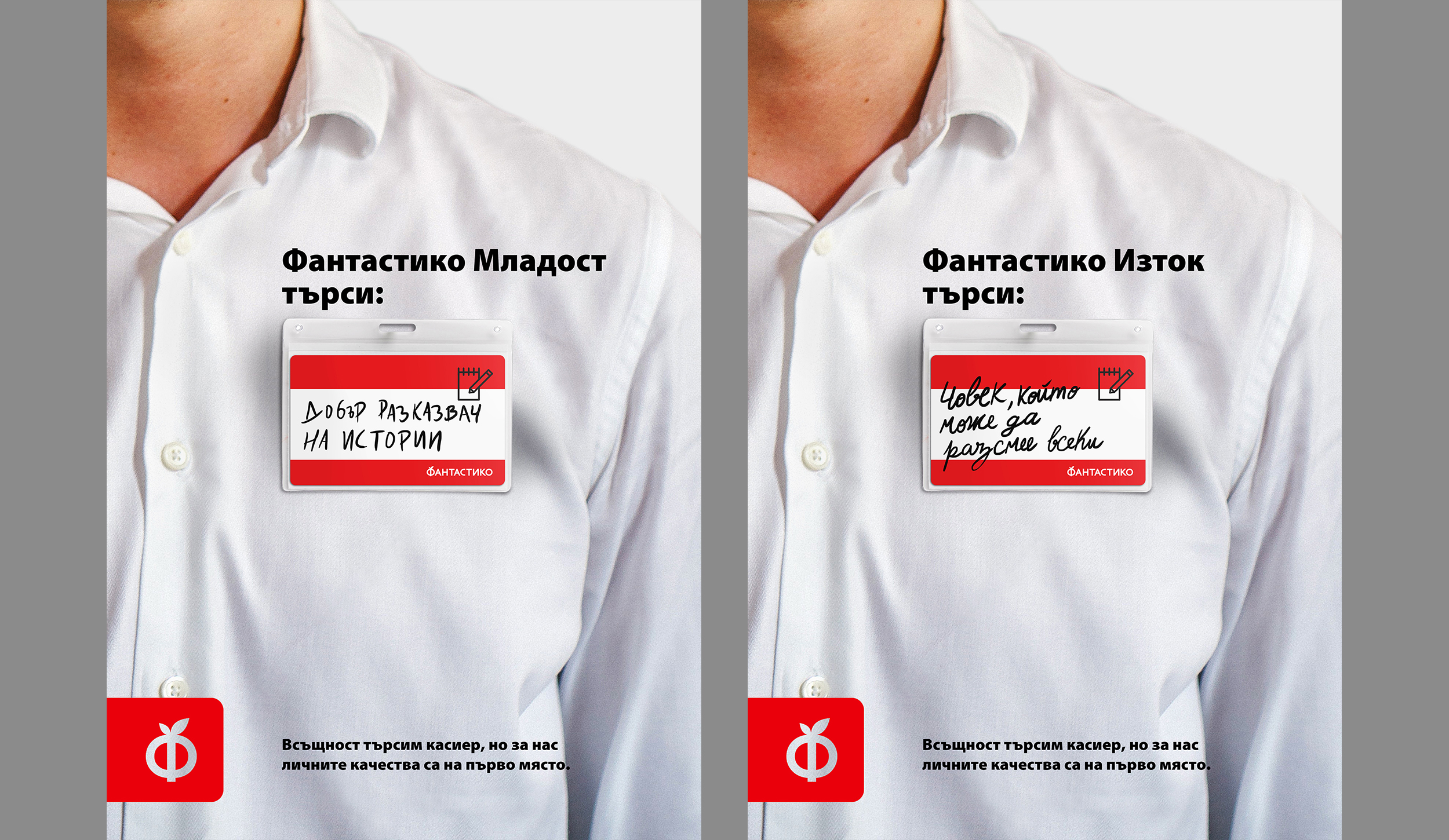 Copy on the left: Fantastico Mladost is looking for: "good storyteller"
Copy on the right: Fantastico East is looking for: "someone who's always laughing"
On the bottom: We are actually looking for a cashier, but for us the personal qualities are the first place.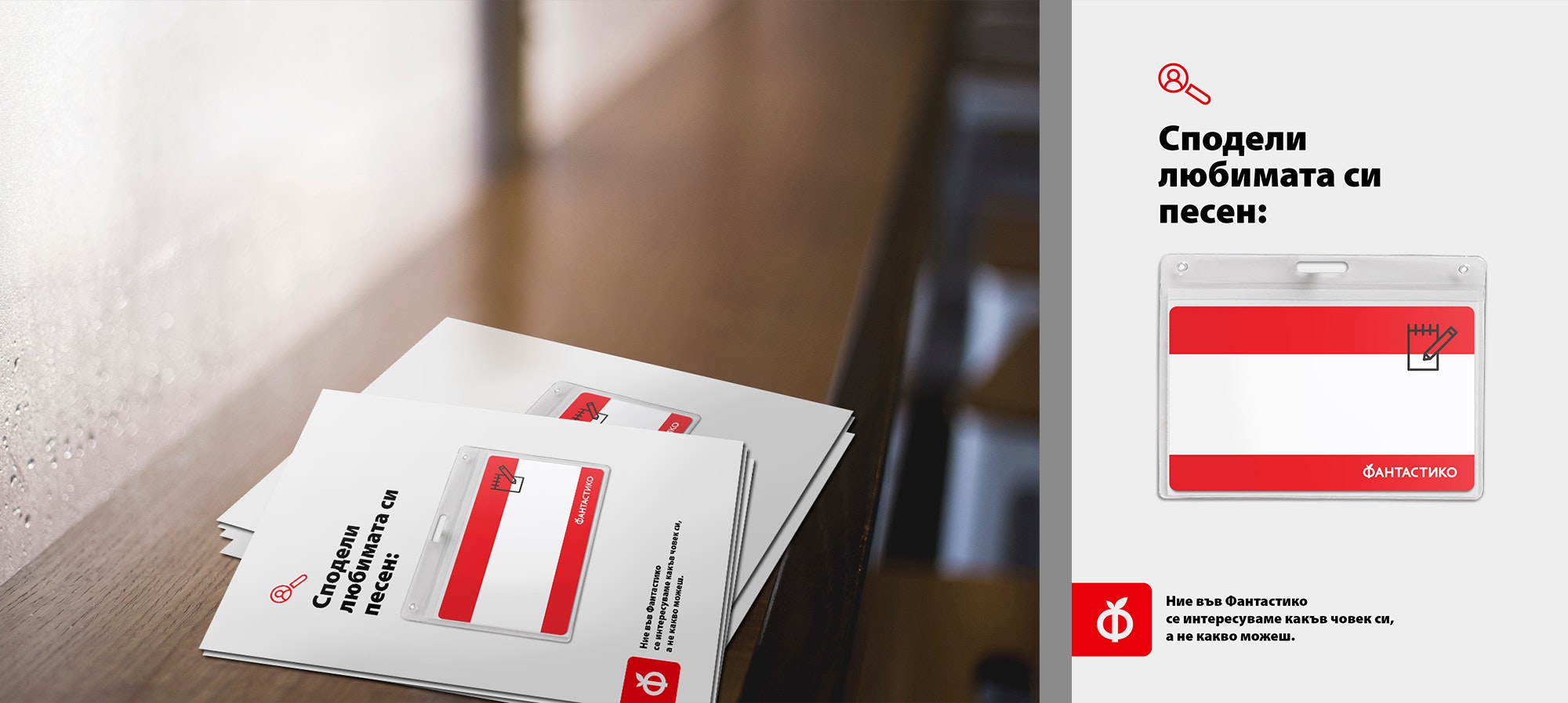 We would've created flyers, which in themselves were a form of application. They would be an enlarged version of our non-standard badges and would be in stores. Those interested in the position would be able to apply by sharing unexpected information about themselves on the flyer - such as jokes or writing their favorite song.

Copy for FB (left): It is more important to us what you are, not what you can. We're picking people at the treasurer position, but we'd love to be a man that knows cinema and have something to recommend.
Copy for IG (right): Everyone who works at Fantastico is not just an employee, but a family member with a character and interest. Here's what they chose to share some of them for themselves: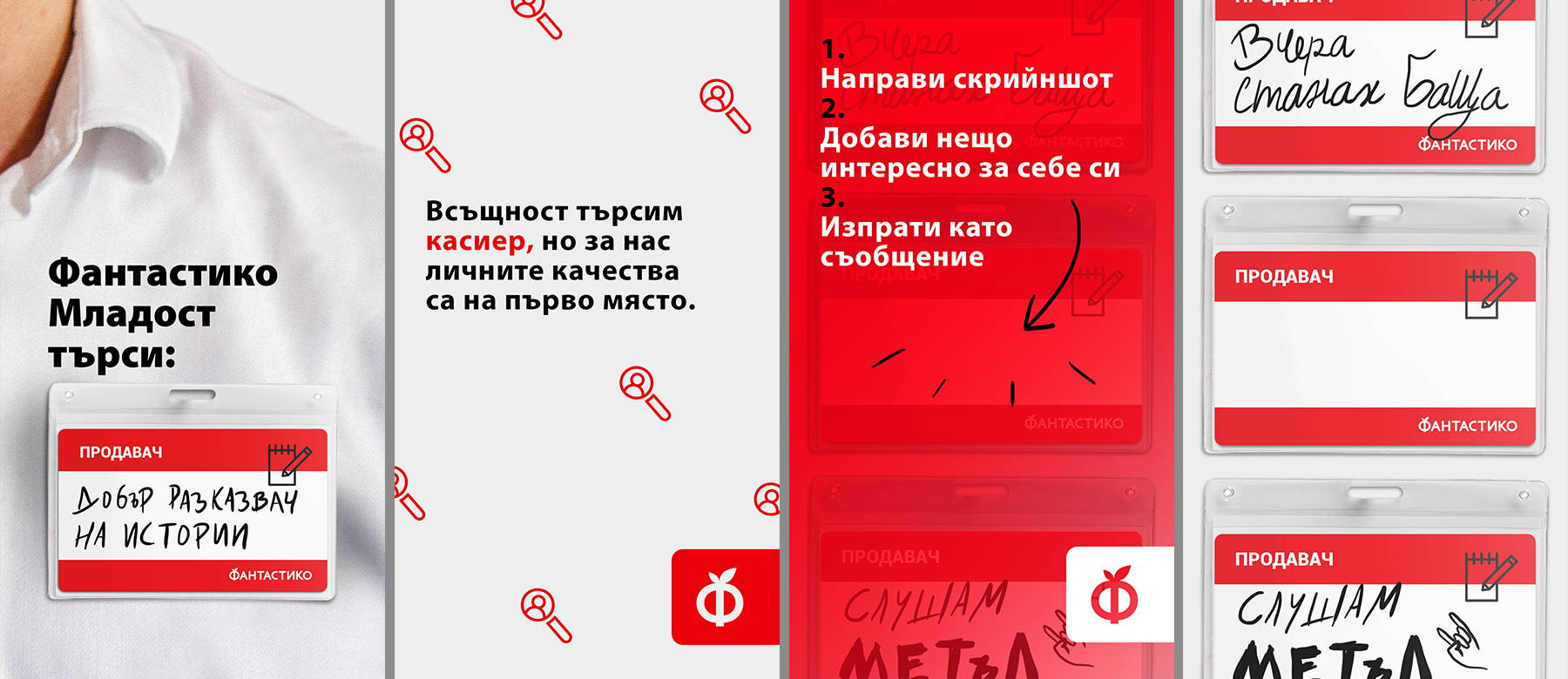 A brief check showed that users in Student Town are quite active in Instagram and in particular through Instagram Stories. This allows us to make a nonstandard application form through Stories that are geo-localized or sponsored as ads. We would announce the position and invite the young target to make a screenshot and share directly in it something interesting for herself to apply for.